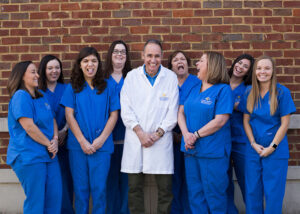 Greetings from Kanawha City Pediatric Dentistry. We've officially made it to September! The changes of the season are upon us and we are starting to notice the crisp air in the morning and the changing color of leaves. When the seasons change, it also brings us a chance for renewal: maybe starting a new hobby or exercise routine, trying a new recipe, enjoying the outdoors and different plants more, trying a new seasonal fruit (fall is great for lots of different apple varieties). Life is still different during the pandemic and we will sure miss attending football games with fall.
We are celebrating Dr. Don's birthday this month! He will celebrate at home with his family. His wife Nancy has promised to cook some of his favorites for dinner: chicken piccata and Texas sheet cake. We've gone ahead and shared the recipe with you so you can try it for your next dinner! Like the name suggests it's quick pan-fried chicken breasts smothered in a simple pan sauce made with capers, butter, and lemon juice. So much yum!
Ingredient Checklist
-4 eaches skinless, boneless chicken breast halves
-1 pinch cayenne pepper, or to taste
-1 pinch salt and ground black pepper to taste
-¼ cup all-purpose flour for dredging
-2 tablespoons olive oil
-1 tablespoon capers, drained
-¼ cup fresh lemon juice
-¼ cup water
-3 tablespoons cold unsalted butter, cut in 1/4-inch slices
-2 tablespoons fresh Italian parsley, chopped
Instructions
-Place chicken breasts between 2 layers of plastic wrap and pound to about 1/2-inch thick.
-Season both sides of chicken breasts with cayenne, salt, and black pepper; dredge lightly in flour and shake off any excess.
-Heat olive oil in a skillet over medium-high heat. Place chicken in the pan, reduce heat to medium, and cook until browned and cooked through, about 5 minutes per side; remove to a plate.
-Cook capers in reserved oil, smashing them lightly to release brine, until warmed through, about 30 seconds.
-Scrape any browned bits from the bottom of the pan with a wooden spoon. Cook until reduced by half, about 2 minutes.
-Stir lemon juice, water, and butter into the reduced mixture; cook and stir continuously to form a thick sauce, about 2 minutes. Reduce heat to low and stir parsley through the sauce.
-Return chicken breasts to the pan, cook until heated through, 1 to 2 minutes. Serve with sauce spooned over the top.
Since we've reopened with our new safety procedures our office has run very smoothly and efficiently. We continue to keep up with the latest CDC, ADA, and WVDA guidance for appropriate PPE. Our patients have shared with us that they greatly appreciate the care we have taken to keep both them and our team safe during this pandemic. They have also been so helpful in following our recommendations for safety in the office such as mask-wearing, pre-screening questions, temperature checks, and limiting the number of people. Thank you to everyone who helps make this all easier!
COVID has been in the center of everyone's thoughts and actions for several months now. We finally feel comfortable with our new normal and can again begin to concentrate on the positives of what our team loves to deliver: making every patient feel at home and providing top-notch dental care for them when they visit us.
We still have numerous patients who had to cancel their appointments during the COVID quarantine. We are working hard to contact and reschedule these patients because we realize the importance of routine care, especially during these challenging times. If any patients have missed a check-up, please feel free to call or text us at 304-926-9260 or email us at pediatric-dentistry@donskaffdds.com. We miss you and would love to see you again soon!