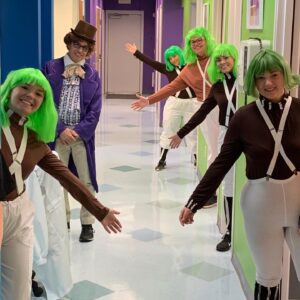 Happy October from Kanawha City Pediatric! Even though the office is under health and safety procedures due to COVID-19 we are still looking forward to decorating our office and letting the Halloween spirit shine! We even plan on dressing up for Halloween. Here's a photo of Dr. Skaff and the team last year dressed as Willy Wonka and his cOompa Loompas...What do you think we will come up with this year? Share your guesses with us in the comment section below.
Since Halloween will look slightly different this year Dr. Skaff and his family plan on staying in, lighting up their jack-o-lanterns, and getting cozy by the firepit. One of his family's treasured Halloween decorations is a hanging ghost that howls when you clap your hands. His family has had it for over 30 years! The howl stopped working last year, but it still has the place of Halloween honor in his house! When it comes to Halloween-themed movies Dr. Skaff and his family stick to classics like Hocus Pocus and The Nightmare Before Christmas.
Looking for healthy Halloween treat alternatives for your little ones? Try turning a stick of grapes into "eyeballs on a stick" and clementines with a stalk of celery in the center make adorable pumpkins. You could also slice up an apple and drizzle a small amount of caramel for a sweet snack. Look at Pinterest for more cute ideas!
In other office news, we want to wish a happy three year work anniversary to Crystal! We love having you as part of our work family. Kanawha City Pediatric continues to keep the dental office very safe and clean during the COVID pandemic. Our team continues to wear extra protective gear and our patients are great helpers with pre-screening and temperature checks. Thank you everyone for helping this "New Normal" go smoothly. We appreciate each and everyone of you.
At home during the "New Normal" Dr. Skaff and his family have made a lot more meals at home. This has given Dr. Skaff the opportunity to experiment with new vegetables and healthier ingredients in his recipes. A recent favorite meal that came out from these experiments is a fennel salad that is delicious!
We hope everyone is having a wonderful start to October. We hope to see you in the office soon!